Success Stories | read about the RESULTS Simon got for his clients.
Sold By Simon, Some listings sell so fast that many don't get to see them. Here you can read about the RESULTS Simon got for his clients. Multiple Offers, Selling Over List Price, Bidding Wars, Leveraging Past Client Connections to Find Buyers. Who you work with matters & Simon has had tremendous success selling some of the metros best homes. Whether buying or selling, call Simon to see how he might your best bet as a seasoned expert with a track record of success to help you achieve your goal of netting the most money or finding your dream home.
Bye Bye Tuscan Mango™ | Hello Santa Barbara Style Oasis
1321 Reiss Ct | Nichols Hills Glenbrook | #SoldBySimon
Paint!! It can be so polarizing! The sellers of this home were looking for specific feedback on what they could do to get their home sold, after being listed for 6+ months with another firm. After painting and new marketing, showings spiked, and this home sold from an open house. Over and over the feedback was that people loved the "Santa Barbara" style and had never noticed the house before. Neutralizing the interior decor, thinning out the furniture helped the home to shine.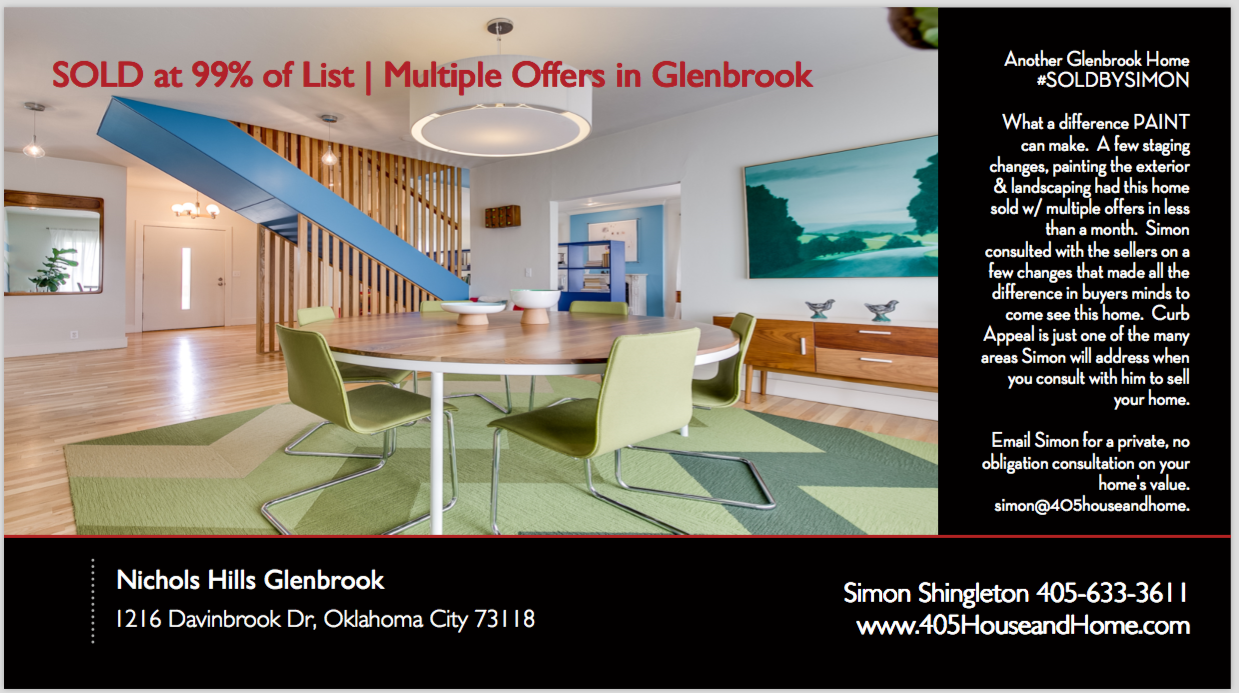 Sold By Simon | Nichols Hills Glenbrook Sold at 99% of List Price | 1216 Davinbrook Dr
A little before & after on this one… The owners of the Glenbrook Home called me after having it listed for a short time earlier this year. Seeing I had recently sold another home around the corner they called and asked for a consult on what I might do different to get their home sold. They had done some incredible work that was BOLD and out of the box for sure.
The most major change I suggested was altering the color of the exterior…

Lightening up the exterior and taking the stain off of the cedar shingles of the Mansard roof, and unifying the door & trim color proved to be the most powerful change to get the buyers to flip over getting in to see this home. I also suggested neutralizing a few of the window treatments and rearranging the outdoor living space for buyers to envision exactly how they might use it. We received 2 offers in less than 30 days and things couldn't have gone smoother.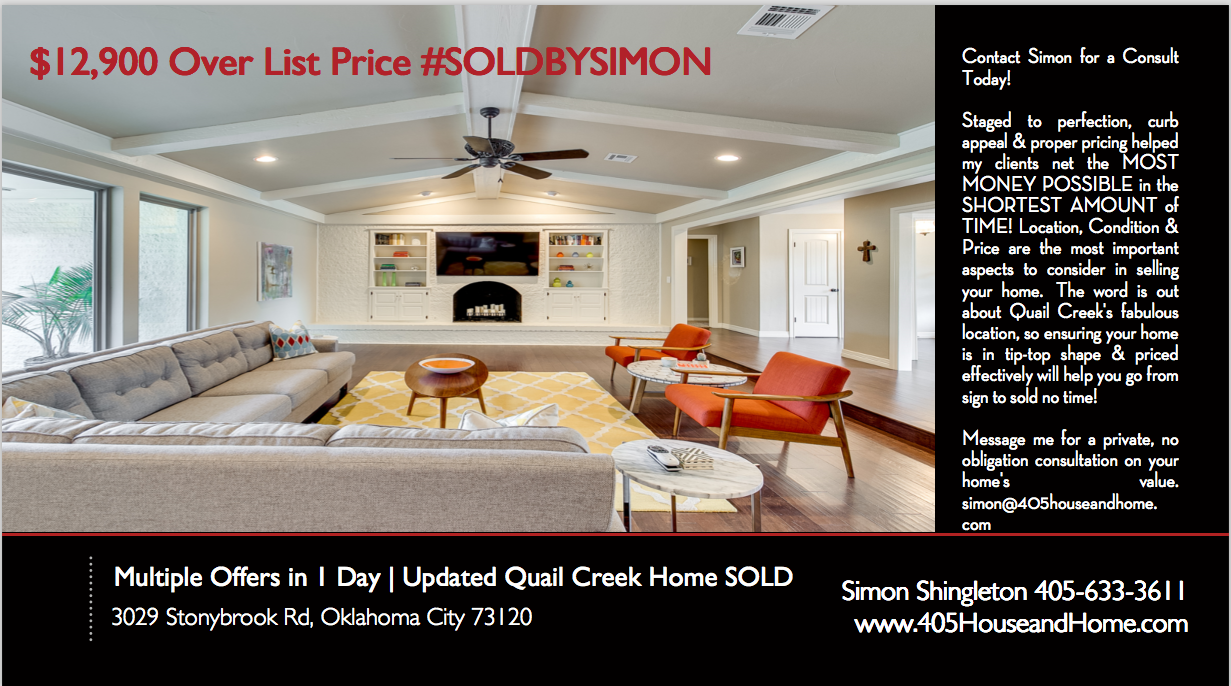 Sold By Simon | $12,900 Over List Price | 3029 Stonybrook Rd
My sellers received 4 OFFERS within days of the sign going up. Staged to perfect, curb appeal & proper pricing helped my clients net the MOST MONEY POSSIBLE in the SHORTEST AMOUNT of TIME! Location, Condition & Price are the most important aspects to consider in selling your Oklahoma City Area home. The word is out about Quail Creek Neighborhood's fabulous location, so ensuring your home is in tip-top shape & priced effectively will help you go from sign to sold in no time!
View the original listing slideshow here: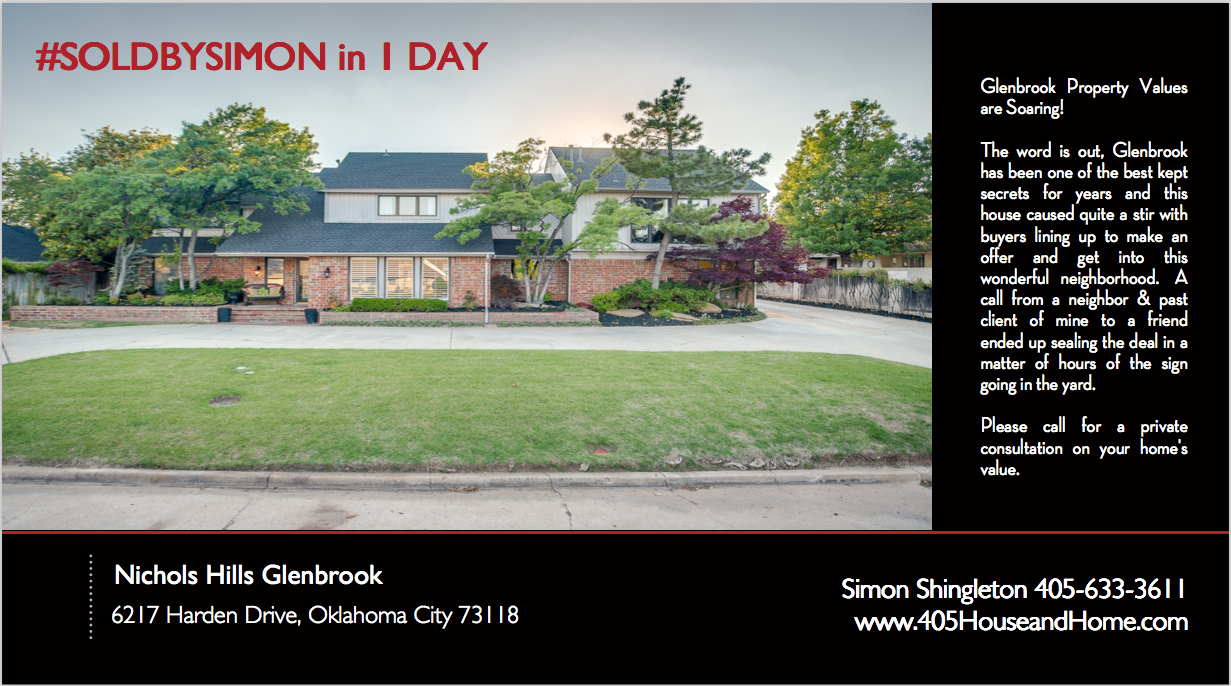 Sold By Simon | Nichols Hills Glenbrook Home Sold in Hours
I've had the opportunity to help this particular client sell and purchase multiple homes over the last several years. This Nichols Hills Glenbrook home was primed for an update when they purchased. When it was time to move, their work paid off. The style and design choices they made had people literally beating down the door to see inside. Since I had most recently helped another client buy a home around the corner, I gave them a call to see if they wanted to pick their new neighbors. Literally minutes after placing the sign, the neighbor connected me with friends who had been causally looking and within a few hours they made an offer and seller was ready to accept.
View the original listing slideshow here: